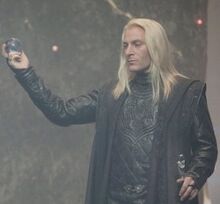 About me
Lucius Malfoy:"I feel much easier in my mind now that I know that Dumbledore is being subjected to fair and objective evaluation,Many of us with our children's best interests at heart have been concerned about some of Dumbledore's eccentric decisions in the last few years and will be glad to know that the Ministry is keeping an eye on the situation."
Lucius Malfoy:"It's time you learned the difference between life and dreams, Potter," said Malfoy. "Now give me the prophecy, or we start using wands."
It's Longbottom, isn't it?" sneered Lucius Malfoy. "Well your grandmother is used to losing family members to our cause.... Your death will not come as a great shock...."
 Favorite Movie: Order of the Phoenix Favorite Book: Deathly HallowsFavorite Character: Lucius Malfoy

My favorite pages
Add links to your favorite pages on the wiki here!
Favorite page #2
Favorite page #3