Sybrina McLaggen née Fronsac
Sybrina McLaggen nee Fronsac

{{{}}}
Biographical information
Blood status
Marital status

Married

Title(s)
Physical information
Species
Gender

Female

Hair colour

Brown

Eye colour

Hazel

Family information
Family members

Druella Fronsac nee Black (mother)
Barney Fronsac (father)
Cormac McLaggen (husband)
Basil Fronsac (paternal great grandfather)
Marius Black (maternal grandfather)
David McLaggen (son)
Ella McLaggen (daughter)
Samuel McLaggen (son)

Magical characteristics
Boggart

Snakes

Wand

11" Mahogany, Unicorn Hair

Patronus

Fox

Affiliation
Occupation

Department Head

House
Loyalty

Sybrina Fronsac attended Hogwarts School of Witchcraft and Wizardry and was sorted into Ravenclaw House and played Keeper in her 5th and 7th years at Hogwarts for the Ravenclaw Quidditch Team . She began school a year after the great Harry Potter attended Hogwarts, and helped fight during the Battle of Hogwarts with fellow DA members and staff. She survived the wizarding war and became Department Head of the Department of Magical Transportation at the Ministry of Magic and went on to marry Cormac McLaggen a reserve/Keeper for Gryffindor House and fellow combantant during the Battle of Hogwarts.
Biography
The
Fronsac
family tree and the
Black Family Tree
stray down two very different paths. Sybrina's father came from a line of well educated Ministry Officials,
Wizengamot's
, and even a Hogwarts
Headmaster
 ; her great grandfather
Basil Fronsac
. On the other hand her mother Druella was eliminated from the Black Family Tree along with her grandfather
Marius Black
for being an illegitimate child and him having a child unmarried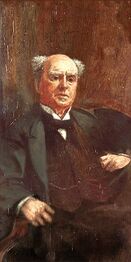 and to a "
blood traitor
". It is unknown and has never been revealed who Druella's mother was.

It is known she was killed and it was assumed to be by someone close to Marius in the Black Family. When entering Hogwarts Druella was sorted into Ravenclaw House and was told to lie to anyone who questioned her last name; she would say she was
Muggle Born
and Black came from the Muggle world not the wizarding world. During Druella's time at Hogwarts she met fellow Ravenclaw, Barney Fronsac and eventually got married and gave birth to Sybrina.
Barney was a wealthy man and gave Sybrina everything she could have hoped for as a child, and being the only child everything was hers alone. Druella was concerned when Sybrina was entering Hogwarts as a first year, that she could possibly be sorted into Slytherin House and demons from her family's past could arise. Thankfully for the family this was not true and Sybrina was sorted into Raveclaw House.
Life at Hogwarts
Very smart, intellectual, and popular, Sybrina made friends with many Hogwarts students while she was at Hogwarts. Ranging in ages and sizes some of her closest friends included: Roger Davies , Terry Boot , Ginny Weasley , Padma Patil , Dean Thomas , Hannah Abbott , Ernie Macmillan , and having briefly dated good friend Seamus Finnegan and Slytherin Teddy Nott .
When Professor Umbridge took over the school in her fourth year and fellow students Hermione Granger and Ron Weasley , her good friends brother, started a secret society within the school, Dumbledore's Army, she immeditely signed up due to not only her complete bordem in copying useless notes in class, but to associate with some of her good friends as well.

During her fifth year at school she was selected to be the Ravenclaw Quiddich Team's Keeper. Very rarely were women chosen to play this position but her quickness and agile form on the broom were extremely benificial to the team. By her sixth year the school had been taken over by the
Death Eaters
. She was forced to bond with many and more of the students to ensure they looked after one another, and secretly kept Dumbledore's Army alive while founding members Hermione, Ron, and Harry Potter were off finding
Horcruxes
to defeat the evil
Lord Voldemort
who had come to power. It was at this time she bonded with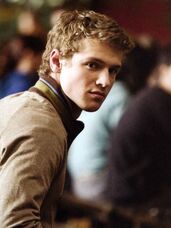 repeating seventh year and Gryffindor Cormac McLaggen. Both had played against one another in Quidditch and since the season was cancelled they bonded and Cormac became very protective of her, especially around the newest, meanest, Death Eating Professors; the
Carrows
. On one occassion Sybrina refused to Hex a first year and was punished by means of the Cruciatious Curse by
Aleco Carrow
. Cormac witnessed this occuring and jumped in between, temporairly taking the curse for her and also preventing harm to both of them. As punishment Cormac was left in the
Dungeons
with no food or water for an entire 24 hours, and while he was down there Sybrinawas being looked after by
Madame Pomfrey
in the
Hospital Wing
, unable to help Cormac.
When Harry, Ron, and Hermione finally returned and the battle began, Cormac and Sybrina stayed close and
never parted during the war. They defended the Grand Staircases with DA members and professors, and were within a few feet of the explosion that killed Order of the Phoenix member Fred Weasley . Cormac and Sybrina found and carried the body of friend, DA member and Gryffindor student Nigel Westpurt , at the break of the battle, and Cormac had broken his arm during battle and had it wrapped by Sybrina.
Aftermath
When the battle finally ended it was clear the two had more then just a friendly chemistry. Sybrina and Cormac stayed together during her seventh and final year at Hogwarts and then a few years later got married. Sybrina got

a job at the Ministry in the Department of Magical Transportation in the Broom Regulatory Council and was promoted a few years later to Head of the Department all together.
She and Cormac had three children together; David, Ella, and Samuel.
| | |
| --- | --- |
| | This user is in love with Cormac McLaggen. |
| | |
| --- | --- |
| | This user contributes using Safari. |