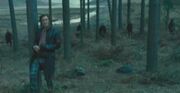 A half-blood at birth my mother and father were snatchers and supported Lord Voldemort and were killed by members of the Order of the Phoenix. I was raised by muggles which I'm proud of. I am not proud of my past and try to hide it the best I can. I do not think what my parents did was right.
| | |
| --- | --- |
| | This user believes in the Greater Good. |
This user is a fan of

Dobby

.
This user's favourite character is

Dobby

.