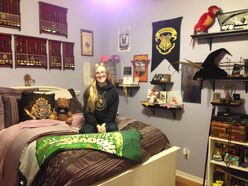 Hello! I figured that since I get lost in the Harry Potter Wiki so much, I should be a member. There is so much here, that when you think you know it all...WHAM! Nope. Not even close.
My Favorite Characters
On the Slytherin House
I am a proud Slytherin - since there is no such house as Slytherclaw - and this does not mean that I am evil. When I walk around wearing a Slytherin shirt, or a Slytherin robe, or a Slytherin lanyard, you would think I was wearing a sign that said, "'I'm evil. I like to hurt people," with the reactions I get. I don't support Voldemort, or Dolores Umbridge, or any sort of pure-blood ideology, or Muggle domination. I am cunning and ambitious, shrewd and driven - none of those words are defined by: "to aspire to kill and achieve world domination".
I have a theory about some members of the Slytherin house. There are, of course, Slytherins who follow Voldemort and do bad things. These Slytherins are influenced by their parents, who are influenced by Voldemort and their desire to have a hierarchy with pure-bloods at the top, and everyone else at the bottom. There are people who don't have this influence, but are sorted into Slytherin based on their personality, and are then influenced by their housemates. Why not? they think. It is rare that anyone from any other house accepts a Slytherin. Those houses don't want anything to do with a Slytherin, so their fellow housemates - including the "evil" ones - become their only friends. Severus Snape had Lily. But he also had enormous pressure from his dormmates, and - suggested in The Prince's Tale - Lucius Malfoy. He was someone who had grown up alone, only watching Lily from afar until it was nearly time to go to Hogwarts. He wasn't accustomed to having people who wanted to talk to him. Not even Lily's influence could have saved him from that. But Snape is not a normal example, based on his childhood. Most people have normal lives and grow up in normal families. Those are the Slytherins that can be saved.
JK Rowling herself has said that not all Slytherins are bad people. So please stop giving us Slytherins such weird looks in the Wizarding World of Harry Potter.