Roy Craven
Biographical information
Born

July 13th 1989

Blood status
Title(s)

Professor, Soldier, Officer

Physical information
Species

Human

Gender

Male

Height

5 ft 7'

Hair colour

Dark Brown

Eye colour

Green

Skin colour

Tanned

Family members

Lucy Craven (mother)
Wesley Craven (father)

Magical characteristics
Boggart

ghosts of dead comrades

Wand

10 inches, Willow, Unicorn Hair

Patronus

White Tiger

Affiliation
Occupation

Professor
Canadian Army Soldier

House

Hufflepuff House

Loyalty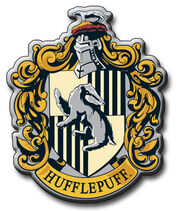 Roy Craven
Biography
Roy was born July 13, 1989, in Toronto, Ontario, in a muggle family. His dad was a rich business owner, his mom a writer of fiction. When he was visited by Headmistress McGonagall when he was 11, he gladly went to Hogwarts from 2000-2007. He was sorted into Hufflepuff because of his fairness and loyalty.
Canadian Army
In 2008, Roy left the Wizarding World to join the Canadian armed forces in Afghanistan. Because of his skill at magic, Roy was able to enhance his weapons, using various magic spells, including enchanting bullets, so they could stun, or even kill in one strike. Usually he made the bullets contain the Avada Kedavra (killing curse) so they could easily kill.
Unfortunately for Roy, in 2011, he lost his leg in an explosion, which killed most of his squadron. His leg was replaced with a mechanical leg, which connected to his nerves, so he could walk properly.
Defence against the Dark Arts
Later in 2011, Roy realised the place where he felt safest, the place where he felt the happiest, was Hogwarts. Roy continues to teach at Hogwarts as a Defence against the Dark Arts.