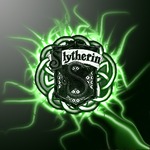 Hello fellow wikia followers! The name is Muggleborn-Slytherin and thank you for having the time to visit my (pathetic *sobs*) profile. Anyways, I'm sure you want to know a few things about me, I mean: that is the reason why you clicked on here...am I right? No...okay then...
Short Bio:
Gender: Female
Age: Younger than 25 but older than 15.
Nationality: British/Welsh
Well there you go. You know a little biography about me and that's all you'll pretty much get. Personality wise, to the real world: very quiet and confined. I stand up for what I believe in, and will fight for my corner if it is threatened. I believe that everyone has their own opinion and should not force their opinions onto someone elses views. It is called 'Freedom of Speech' for a reason, everyone is entitled to think and believe what they want.
Um... oh, yeah, never assume that you know more than others. If you are going to fight with someone, especially me, then I hope you have the proof to back up your claims. But even then, at the end of the day, it all still comes back to the your individual opinions.
For example: I believe in the phrase 'There are two sides to every story' therefore, on the Harry Potter wiki, I believe that not all Slytherins are evil, and that you cannot blame the Slytherin house because of the work of just one man. Even JKR, herself, admitted that the Slytherins were not evil. Your assumptions and beliefs are different to mine, but that does not make me wrong and you right.
Belief is a powerful thing. Use it wisely.
Muggleborn-Slytherin (talk) 00:29, August 22, 2013 (UTC)
</li>