a half-blood wizard who was the son of the witch Eileen Snape (néePrince) and Muggle Tobias Snape.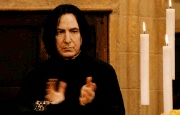 During his lifetime, Severus Snape was Potions master (1981–1996), Defence Against the Dark Artsprofessor (1996-1997), and Headmaster (1997-1998) of Hogwarts School of Witchcraft and Wizardry (which he attended as a student from 1971 until 1978). He was also member of the Order of the Phoenix, and played a very important role in both of the Wizarding Wars against Lord Voldemort
You've also gotta love the characters in general, especially when you look at how they'll grow up. Hermione is the mad scientist, Draco is the gothic 'teacher's pet', Ron is the conspiracy nut, Ginny is the tom-boy, Lavender is the girl who secretly loves Ron and has a crush on him (or dead since the
"Book 7 Part 2"
movie), Snape is the strictful but clever
eccentric whom has lived everywhere, Harry is more or less the mediator between all of them, etc. Sounds like a batch of kids we'll all be working with twelve years from now!
That's a Baby Show appeared, in subtle ways, to be about Teletubbies, but there was more. The regular show which Arthur and his friends watch is Bionic Bunny. In this episode there was a Dark Knight spin-off version, a darker/scarier version: Dark Bunny. (They are good about trends with this show. For instance the kids were hooked on Scare Your Pants Off club books at the same time Goosebumps was popular. Then when Animorphs took over they decided Vegemorphs make Scare Your Pants Off books look like baby stuff. Of course you're about to read how they really feel about baby stuff, though!) After hearing Buster and Francine talking about it, Arthur decides he needs to see it.