Julie Weasley (née Curran)
Biographical information
Born

27th September 1995

Blood status
Marital status

Single

Also known as

Jules

Physical information
Species

Human

Gender

Female

Height

5foot9

Hair colour

Dark brown

Eye colour

Brown, Green and Blue

Skin colour

White

Family information
Family members

Mum, Dad, 4 sisters and 1 brother

Magical characteristics
Animagus

Dog

Boggart

Needles, Penetration of skin

Wand

Cherry , Unicorn core ,Quite flexible, 14 1/2 Inches

Patronus

Doe

Affiliation
Occupation

Student at Hogwarts

House
Loyalty
My Muggle Background.
Im Julie, im 16 and Dyslexic. Harry Potter got me reading and now im addicted to the whole Harry Potter series.
Although I was too young to read when the books were released I was hooked on
listening to the tapes and would sit for hours in my room listening to them. I live in Belfast and when I heard about the Deathly Hallows Part 2 premiere in Dublin I convinced my mum to bring me on a two hour car journey to stand outside and meet James and Oliver Phelps (Fred and George Weasley ), Evanna Lynch(Luna Lovegood ) and Domhnall Gleeson (Bill Weasley) . I got all of their autographs and photos with Evanna and James .
I was lucky enough on the 31st of July 2011 to be selected as one of the people who will have early access to the Pottermore website with the name of PhoenixCham41 and I am majorly excited until it is opened! :D I also have major Post-Potter Depression :(
My HogwartsBackground.
Although I failed to recieve my Hogwarts acceptance letter on my Eleventh birthday, I have been able to work out somethings about what my life would be if I werent a muggle .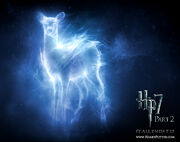 My Patrounus - assuming I would be able to conjure a full one - would be a doe, much like Lily Potter and Severus Snape .
My House in Hogwarts is Hufflepuff , as I have been placed there in Pottermore. This came as a shock as I had more traits of a Ravenclaw than of a Hufflepuff. Although I do have some of the traits of a Hufflepuff.
I think I would also play Quidditch if I were in Hogwarts, and would play chaser or seeker as I am very quick.
Pottermore
When I heard of Pottermore I knew I had to sign up for it straight away, so when I found out about the Magical Quill I entered on Day one (31st of July 2011) and was one of the first million who were granted early access to Pottermore. It took what seemed like forever for my welcome email to come through but finally on the 27th of August 2011 my welcome email graced me inbox. It was onky fitting that I logged on immediately and added to my knowledge of the world of Harry Potter. Here are some facts about my world of Pottermore.
I am PhoenixCharm41
My wand is made of Cherry with a core of Unicorn, It is 14 and a half inches and quite flexible.
I was placed in Hufflepuff house.
My favourite Harry Potter moments
All time Harry Potter favourites