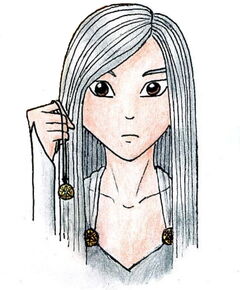 Ilionej Yulanda Nephredinja

Flynn-Prescott-Stevens

Biographical information
Born
Died

many times, supposedly

Blood status

it flows

Also known as

Sandra F. Hammer

Title(s)

anything as long as it isn't insulting or against my moral

Physical information
Species

Hashijanda-Salu

Gender

Female

Hair colour

Brown

Eye colour

will ensnare your senses

Skin colour

white

Family information
Family members

too many

Magical characteristics
Animagus

Is that really necessary?

Boggart

Dementor, most likely. But there are various possibilities.

Wand

Brass, aereal core

Patronus
Affiliation
Occupation

you'll know soon enough

House

housing estate

Loyalty

strong
Ghosts are transparent and Edwin's mother is innocent. Basta.
BEWARE!
THIS ARTICLE MIXES DATA OF THE GIRL
WITH TRAITS OF HER PERPETUER!
Favorite method for survivalEdit
Abilities and skillsEdit
Wandless and non-verbal magic: She is known for successfully working the Confundus Charm on men; and sometimes women as well; without the use of a wand or incantation while speaking with them or simply making eye contact. To a certain extent she has influence on technical devices such as trafic lights, computers or lamps.
Art: Experiences and even serious accomplishments in various kinds of art rank among things she is proud of. Though which is a bane may also be a bone.
Spelling: Utter correctness on this field is often felt unnerving by her victims, sometimes being herself even.
Creation of words: Often based on logic, sometimes on mood, she successfully invented a signifficant number of words in German and English. This has happened unintentionally in other languages.
Spell creation: As with words of regular language, she also invented several functional spells, basically for locking and unlocking doors.
Love: She nourishes deep unconditional love for a certain person. For the welfare of both and many others, this person shall not be named anywhere in connection with her and this emotion. Though unable to fully show, she also is exceptionally drawn to existing as well as fictional beings and nearly dies if there is any harm inflicted on those.
Interconnection: No matter what, no matter when, no matter how much out of context, she can allways work it into the most appalling directions.
Elocution: Should magic not work, she skips to purely verbal bewitchment. Talking several minuts long is no challenge for her and through her talent with words she can bind her listeners `before they can say Quidditch´.
Cogency: Constant persuassion is one of her strengths. Everyone has a breaking point.
Unnervingness: There have been records of several casualities on the behalf.
Secrecy: There are countless matters she can take to her - or anyone else's - grave. And if it is some of her own abilities.
AllegiancesEdit
Be warned...Edit
| | |
| --- | --- |
| | This user is 25 years, 8 months and 11 days old. |

| | |
| --- | --- |
| Teh | This user is a spelling freak. Your misspellings will be corrected almost as fast as you type them! |

| | |
| --- | --- |
| | This user is a watchdog against vandalism, spam, and fanon on this Wiki. |

| | |
| --- | --- |
| | This user doesn't need to be disturbed, they are currently a bit offline and a minuscule potion ingredient short. |

| | |
| --- | --- |
| | This user ain't afraid of no ghosts. |

| | |
| --- | --- |
| | This user has loved ones beyond the Veil. |

| | |
| --- | --- |
| | Do not wake this user up in the morning for your own sake! |

This user believes in
CONSTANT VIGILANCE!

| | |
| --- | --- |
| | This user has lost possessions to Nargles |

| | |
| --- | --- |
| | This user thinks there are Nargles infested in the mistletoe. |

| | |
| --- | --- |
| | This user has a great Wand and it rocks! |

| | |
| --- | --- |
| | This user likes to Write. |
This user plans to do

some major clean up.

If you are suicidal enough to believe you can - oh my goodness! Is that a Gulping Plimpy there on your head? O.O