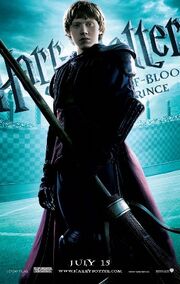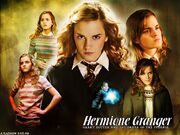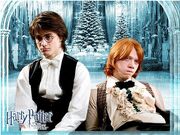 My favourite characters and why:
Hermione Granger = She is intelligent, brave and pretty and she can cast all spells(not one she CANNOT DO). She is an important member of the D.A (Hermione Granger)
Ginny Weasley = She is sweet, young, intelligent.(Ginny Weasley)
Harry Potter = He is son of Lily and James Potter, brave and intelligent. Becomes a legend at Hogwarts.(Harry Potter)

Luna Lovegood = She is sweet, and have positive thinking, she is a good friend of Harry Potter(Luna Lovegood).

Ron Weasley = He is a scaredy cat, loyal to Harry, patient whenever Harry gets angry and funny.(Ron Weasley)
The characters I hate and why:
Dolores Umbridge= Because she wants to take over the school and tortures all the students at Hogwarts, and hates Dumbledore. (Dolores Umbridge)
Bellatrix= Because she threaten Hermione to slit her throat and killed her cousin, Sirius Black (Harry's Godfather) (Bellatrix, Sirius Black)
Lucius Malfoy= A traitor, Death Eater and tends to kill Harry. Draco Malfoy= Like father, like son. He lets all the Death Eaters into Hogwarts and is jealous of Harry. (Lucius Malfoy)

Lavender Brown= She steals Ron from Hermione and asks Harry to seperate them.(Lavender Brown)
Quotes:
Harry: But why does she got to go to the library for?
Ron: That's what Hermione does, when in doubt go to the library. "At least no one in the Gryffindor had to buy their way back in. They got in on pure talent."-Hermione Granger
"And they haven't invented a spell that Hermione can't do"- Reubeus Hagrid
"Just because it's take you three years to notice, Ron, doesn't mean no one else has spotted I'm a girl!"-Hermione Granger Hermione: Hey, she's only interested in you because she thinks you're the Chosen One.
Harry: But I am the Chosen One
Hermione smacks him on the head with a newspaper Harry: Sorry, just kidding. "Next time there's a ball, pluck up the courage and ask me before somebody else does, not at the last resort!"-Hermione
(After Hagrid gives Ron Scabbers back)
Hermione: I think you owe someone an apology.
Ron: Right. Next time I see Crookshanks, I'll let him know.
Hermione: I meant me!
"Is that really what my hair looks like from the back?"-Hermione
Ron: I'm warnin you Hermione! Keep that bloody beast of yours away from Scabber or I'll turn it into a tea cozy!
Hermione: It's a cat, Ronald! What do you expect? It's in his nature.
Ron: A cat? Is that what they told you? It looks more like a pig with hair if you ask me?
Hermione: That's rich, coming from the owner of that smell old shoe brush. It's alright Crookshanks. Just ignore the mean little boy.
Harry: And now we wait?
Hermione: And now we wait. (They sit down at the end of the scene)
Harry: Now what?
Hermione: We save Sirius.
Harry: How?
Hermione: No idea
Hemione: (howls)
Harry: What are you doing?
Hermione: Saving your life!
Harry: Thanks! ... Great, now he's coming at us!
Hermione: Yeah, didn't think about that... run!
For more quotes from Harry Potter: Quotes (Hermione Granger)
My favourite films:
Harry Potter and the Socerer's Stone
Harry Potter and the Order of the Pheonix
Harry Potter and the Half Blood Prince
Favourite Houses:
===Gryffindor===
===Ravenclaw===
My favourite actor and actresses:
Emma Watson
Bonnie Wright
Rupert Grint
Daniel Radcliff