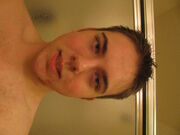 | | |
| --- | --- |
| 228 | This user has made over 228 edits on the Harry Potter Wiki. |
{{{family

}}}

Biographical information
Born

July 23,1993

Blood status

muggle-born

Also known as

Codeman; Codster;

Physical information
Gender

Male

Height

5 feet, 7 inches

Hair colour

brown

Eye colour

green/grey

Family information
Magical characteristics
Animagus

Wolf

Boggart

everyone I know hating me

Wand

11 inches, Maple, dog hair core

Patronus

Labrador Retriever

Affiliation
Occupation

Sound System Operator,
AV Team Leader (formerly)
Webmaster (formerly)
Student
Yearbook Editor-In-Chief (formerly)
Baseball Player (formerly)
Soccer Player (formerly)
History Club Chairperson (formerly)
Drama Club Chairperson (formerly)
Current Status
"Feeling better about life"

Gryff23(b. 23 July, 1993) currently lives in Pittsburgh, Pennsylvania. He currently is in High School attending the 10th Grade at a cyber school.
He is an enemy of Lord Voldemort and the Death Eathers. He also dislikes any type of blood-purity prejudice in the Harry Potter series.
He is a supporter of Harry Potter, and Draco Malfoy. He also supports Gryffindor and Slytherin houses.
He is a fan of Harry Potter/Draco Malfoy slash fanfiction. He has written 3 HP/DM slash fanfictions.
His favorite studies include- History, and the Lutheran Religion.
Personal Life
Gryff23 is gay, and sort of in a relationship .
Aside from his studies, Gryff23 has other interests. In his spare time he likes to play on his Wii, play video games, watch tv, listen to music, study more on his religion, study his family history, and read books, especially Margaret Truman and Agatha Christie books.
He is also webmaster of his church's website. He is also a Sound System operator and was on the AV Team until it was disbanded. He used to be the Leader of the AV Team, but resigned once, and was persuaded to become Leader again, so he did, and then resigned again soon before the position was disbanded. He recently got trained for the new sound system.
He has a mental disorder known as ADHD. ADHD affects him by making him do things without realising the consequences.
Interests
Gryff23's favorite type of music is country. His favorite singers are Brooks and Dunn, Luke Bryan, Kenny Chesney.
His favorite actors are Daniel Radcliffe, Tom Felton, Alan Rickman, Michael Caine, Michael Gambon, Morgan Freeman, Gary Oldman, Victor Garber.
His occupational goals are still undefined, although he would like to be a high school history teacher or a probation officer.
His favorite TV Channel is CMT. His favorite TV Shows are Ghost Whipserer, and Are You Smarter than a 5th Grader?. His favorite movies are of course Harry Potter, Titanic, The Poseidon Adventure, the Die Hard series, Luther, My Boy Jack, and The Day after Tomorrow.
Heroes
Gryff23 knows some brave and heroic people. Some are:
The Triune God (The Father, The Son, and The Holy Spirit)
Dr. Martin Luther (Protestant Reformer, Theologian, Pastor, Professor, Doctor of Divinity)
Captain E. J. Smith
St. Bartholemew
Thomas Andrews