FACTFIXER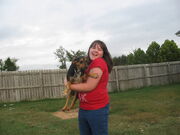 name = Amber
born = September 23, 1995
died = July 4th...Then I became a Vampire!!! (Kidding...)
gender = Female
hair = Chocolate Brown
eyes = Green with specks of hazel, also around the iris
skin = White with a tan
boggart = My family and friends dying
patronus = Monkey
house = Gryffindor or Hufflepuff
loyalty =
Hogwarts
Order of the Phoenix
Dumbledore's Army


These are my favorite characters
The Weasley family.
Harry Potter
Hermione Granger
Luna Lovegood
Draco Malfoy
Albus Dumbledore
Fred and George Weasley
Mad-Eye Moody.
Sirius Black
Remus Lupin
Tonks

Least Favorite Characters
Umbridge
Voldemort- I like him better than Umbridge, but still, I didn't like him.
Antonin Dolohov- He killed Remus
Bellatrix Lestrange
Peter Pettigrew
Vernon Dursley
Pansy Parkinson

Favorite Book
Prisoner of Azkaban
Goblet of Fire
Deathly Hallow

I am a strong supporter of Hufflepuff and Gryffindor. Its very hard for me to find out which house I am because I have the traits for both houses.
I know everything there is to know about Harry Potter, I can recite all students in Harry's year, almost everyone's death and who the death hit the hardest, I can tell you most of the dragons and where they appeared or were mentioned.
I found this place when I need information for a fanfic I was writing, so yeah, I'm a fanon fan! Mostly in romance and I love Harry and Luna as a couple!
I only fix facts and add some and never re-write anything big. I'll also add rumors and why they were rumored.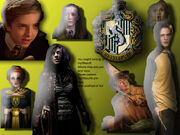 I dont think I can change my name, but I so want to! I also edit pictures in photoshop. Most of my pictures are Harry Potter, but I have others. I've made a few of them too.