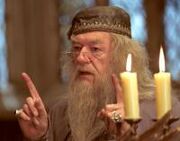 "Every guest in this Hall will be welcomed back here at any time, should they wish to come. I say to you all, once again –in the light of Lord Voldemort's return, we are only as strong as we are united, as weak as we are divided. Differences of habit and language are nothing at all if our aims are identical and our hearts are open." – Albus Percival Wulfric Brian Dumbledore,
Harry Potter and the Goblet of Fire,
pg. 723, American edition.
My favorite pages