Hi, I'm Ceranthor! I'm a big fan of the Harry Potter series, as it's one of the most inventive and exciting collections I've read.
I like many of the major characters, both protagonists and antagonists, but my favorites are Albus Dumbledore, Hermione Granger, and Bellatrix Lestrange.
I edit under
the same name
at the English Wikipedia, where I'm an administrator. I also monitor the Earthquakes and Volcanoes Wikis.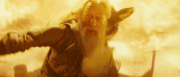 Currently, I'm cleaning up the Hepzibah Smith article.