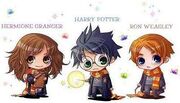 Hi, everyone!!
I'm Arianna, I'm 16 and I live in Italy.
I think Harry Potter is the best book ever: it taught me a lots of things and made me feel less lonely many times.
I ship Ron/Hermione since I was five, when the first movie came out. When she entered the train compartment I thought "They're gonna get together at the end" and they did!!
What else? Oh, yeah, according to a test, I should be in Raveclaw :D
Video games
Edit
About me XD
Edit
This user isn't sure they want to know what

Aberforth

was doing to those goats.
This user can ALWAYS tell which one is

Fred

and which one is

George

in the movies.
Characters
Edit
This user is a fan of

Dobby

.
This user was very sad when

Hedwig

died.