Ameliasnape26
Hello fellow fans of Harry Potter my account name is Ameliasnape26. I didn


't really want to read Harry Potter but my sister really said I should because it is such a great book. So I did and I fel





l in love with this series. My favorite book is probably Harry Potter and the Half blood Prince. It provides a very myster




ious plot. I was very dissapointed in the movie I wish they made it longer or in two movies. I also think they should have 




taken the danger at the burrow seen out, put Charlie and Bill in to, and talk about Fleurs and Bill's engagement. My favo



rite movie of the Harry Potter series is Harry Potter and the Goblet of Fire. This movie provides you with almost everythi




ng from the book, except Dobby isn't mention in it but that is it, they put different sceens in other places but that isn'




t huge just a little minor thing. All of the actors

did a very good job again playing their characters. The Yule Ball was an exquisite feature and it captured everything from ron and harry's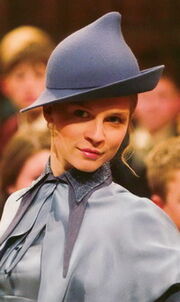 jealousy to hagirds love for madame maxime.
I can'r wait for the seventh movie to come. I can't wait since it is in two parts i believe that will be better to do because you could probably put enough detail so it shouldn't be a dissapointment.
My favorite charcters.... umm i love the golden trio of course, anf fred and george. My favorite slytherin is draco or luscius. My favorite teacher is severus snape. My favorite murader is either sirius or remus. I like alot of characters and if you have any questions be free to ask me.

Ameliasnape26 14:12, June 24, 2010 (UTC)Amelia SnapeAmeliasnape26 14:12, June 24, 2010 (UTC)