Hello I am Abbie Zabini (malfoy) also known as Abbie Malfoy.
I bet you are wondering why i am also known as Abbie malfoy well ill tell you why. My Parents are Narcissa Malfoy and Severus Snape,My Mother Narcissa gave me away to be adopted by the Zabini family for my own safety because her husband
Lucius
only wanted a boy and only 1 child, they already had draco so she knew he wouldent be happy,My father Severous is my potions teatcher and my head of house, i very rarely speek to him unless i have to but im always in toutch with my mother.
I have a very good relasionship with my brothers Draco Malfoy and Blaize Zabini, I met draco as soon as i was born actually. I was born 1 month before draco was (i was born in may he was born in june),I am the oldest out of me and my brothers Blaize is the youngest (by 2 months). In my first year at hogwarts i was sorted in to Slytherin house and became enemys with Hermione Granger, and learned off draco to hate Mudboods,Halfbloods and potter and weasley.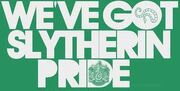 In my second year i stood by Draco and helped him with homework and potions (i was the best with spells). In my third year i tranceferd from Hogwarts School Of Witchcraft And Wizardry to Beauxbatons Academy Of Magic,Draco was very upset that i left so i sent him letters every week same with Blaize. Halfway thrue my fourth year at Beauxbatons Academy Of Magic i tranceferd back to Hogwarts School O f Witchcraft And Wizardry where again i was sorted into Slytherin house and reunited with my brothers. In my fith year i stayed with Draco and Blaize mainly, Taunted Granger and the rest of them oh and Professor Dumbledoor told me i was the most powerfull witch in the world! and Potter tried to "Recruit" me to help him kill the dark lord but i said no and Draco and Blaize refused to let me (they were very protective). In my sixth year Blaize was in danger with Deatheaters so i sadly became a Death eater with Draco but on one condition, Draco and Blaize would not get hurt. In my seventh year the dark lord lied to me and tried to kill my brother blaize but i cast a sheild to protect Draco and Blaize and it was too strong so the dark lord had to go back to trying to kill Potter and at that time he lost 2 powerfull Deatheaters (Me and Draco). Also in my seventh year me and my brothers survived the second wizard war. 19 years later i am still close with my brothers, i made best friends with my brothers (Draco) wife (Astoria Malfoy (Greengrass)) and i am auntie and godmother to my brothers (Draco) son (Scorpius).
Add links to your favorite pages on the wiki here!
Favorite page #2
Favorite page #3