"There are many ways to pass through locked doors in the magical world (see the Fire-Making Spell, Gouging Spell, and the Reductor Curse) where you wish to enter or depart discreetly, however, the Unlocking Charm is your best friend."
—The introduction to the entry on this spell in Book of Spells.
The Unlocking Charm, also known as the Thief's Friend (Alohomora) is a charm that opens mechanical locks that are not protected by magic. It is also able to open doors locked by Colloportus. There is a spell called the Anti-Alohomora Charm which is used to counteract this spell.
Descriptions of this spell are written in numerous books, including the first volume of the Standard Book of Spells series, where it is described in chapter seven [1] and a spellbook that can be found in the Hogwarts Library.[2]
History
Although it is unknown who invented it (the spell was created in Africa) it was brought to Britain and hence to the world in the 17th century by Eldon Elsrickle. He used it to terrorise London, stealing from homes of Muggles and wizards alike, until Blagdon Blay invented an Anti-Alohomora Charm.
Known practitioners
Known uses
Successful
Unsuccessful
Etymology
J. K. Rowling stated that the word was from the West African Sidiki dialect used in geomancy and has the literal meaning "Friendly to thieves". [3]
Behind the scenes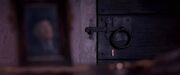 Although Dolores Umbridge's office at Hogwarts was (assumed) impervious to this spell in the novel, Harry Potter uses this spell to open it before attempting to use the Floo Network in the film adaptation of Harry Potter and the Order of the Phoenix.
As it was described in a textbook, this may be learned in Hogwarts Charms classes in the first year.
This may be the spell that Remus Lupin used to open a wardrobe containing a Boggart, and the spell that Harry Potter used wandlessly to open his cupboard to retrieve his school supplies.
In the film adaptation of Harry Potter and the Prisoner of Azkaban, instead of using Alohomora to help Sirius Black escape, Hermione used Bombarda to blast open his cell door.
In the Chamber of Secrets video game for GameCube, Xbox and PS2 it's specified that Alohomora is for use on mechanical locks. In most other sources, it's used on magical locks and the spell colloportus as well.
In LEGO Harry Potter: Years 1-4 and Years 5-7, Reducto is used to blast open most locks, instead of Alohomora.
According to Book of Spells, the spell Portaberto was the most popular unlocking spell before this, and prior to that Open Sesame was.
See also
Appearances
Notes and references