Unidentified male Hogwarts employee (XVI)
Talk

3
"Are you a wizard or not?"

The title of this article is conjectural. Although it is based on canonical information, the actual name is conjecture and may be supplanted at any time by additional information released from canonical sources. If this occurs, please move this page to the appropriate title.
Unidentified male teacher
Biographical information
Title(s)
Physical information
Species
Gender

Male

Hair colour

Black

Affiliation
Occupation

Professor

at Hogwarts
Loyalty
This unidentified professor was a staff member at Hogwarts School of Witchcraft and Wizardry from 1991 to at least 1993. He helped out at the hospital wing on at least one day, though it is possible that he often assisted Poppy Pomfrey and the Healers there. One day, he brought one person to the hospital, and visited Harry Potter and Hermione Granger.
Biography
He attended the Welcoming Feast, and witnessed Harry Potter being Sorted.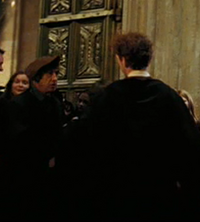 In 1993, this professor attended the Welcoming Feast and sat next to Remus Lupin. Afterwards, he left the Great Hall and spoke with a few of the students, and then with Percy Weasley, a Prefect and newly-appointed Head Boy. He proceeded to head up to the Grand Staircase.
The professor assisted many people in the hospital wing,Healers. In one day, he came with someone to the wing, who was then treated by a black Healer who hugged him. He later visited Ronald Weasley and Harry Potter[1] with Albus Dumbledore, Minerva McGonagall, Argus Filch and Severus Snape[2].
as did the
Behind the scenes
Appearances
Notes and references
↑ See this image.
↑

Seen while Harry and Hermione are going back in time.