"There are plenty of eye-witness accounts. Just because you're so narrow-minded you need to have everything shoved under your nose before you–"

This article contains a list of appearances, but currently has few or no notes and references. Please help the Harry Potter Wiki by adding notes and/or references to bring this article to a higher standard of quality.
"He wasn't in Great Wizards of the Twentieth Century, or Notable Magical Names of Our Time [...]"

The subject of this article does not meet our notability standards. Although it is based on canonical/valid information, it was suggested it does not merit its own article and, as such, is to be either deleted or merged with similar articles.

If you disagree with either of these actions, please explain why at Category talk:Non-notable articles or improve the page and remove this tag.

Remember to check what links here and the page history before deleting.
"Are you a wizard or not?"

The title of this article is conjectural. Although it is based on canonical information, the actual name is a conjecture and may be supplanted at any time by additional information released from canonical sources. If this occurs, please move this page to the appropriate title.
This woman was a Death Eater, who was present at a meeting in Malfoy Manor in 1997. She witnessed the murder of Charity Burbage by Lord Voldemort.
Battle of Hogwarts
This Death Eater later participated in the Battle of Hogwarts.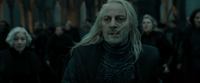 While in the Forbidden Forest, she was seen holding Hagrid down with ropes alongside several other Death Eaters. She witnessed the believed death of Harry Potter by the hand of Voldemort. When Voldemort and the Death Eater have returned to Hogwarts via the viaduct, she was standing near the Malfoys. Like some other Death Eaters she is seen Disapparating and fled the castle as Harry Potter proved he wasn't dead and the battle continued. It is unknown if she later survived after Voldemort's final defeat. But if she did, she was later imprisoned in Azkaban afterwards.
Personality and traits
This Death Eater appeared to be one of the older members of the ranks.
Judging by her decision to flee once she saw that Harry was alive, she seems to be one of the less loyal of the Death Eaters. She was also shown to be scared when Nagini slithered across the table to eat the corpse of Charity Burbage.
Behind the scenes
Appearances