"Are you a wizard or not?"

The title of this article is conjectural. Although it is based on canonical information, the actual name is a conjecture and may be supplanted at any time by additional information released from canonical sources. If this occurs, please move this page to the appropriate title.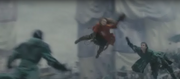 This individual was a wizard who played as Keeper for the Slytherin team in Quidditch. In the Slytherin versus Gryffindor Hogwarts Quidditch Cup match in 1996, he is shown to collide with another Slytherin Quidditch member and hit the hoop, when Ginny Weasley threw the Quaffle.
Appearances
Notes and references