Unidentified Ravenclaw boy (III)
Talk

4
"Are you a wizard or not?"

The title of this article is conjectural. Although it is based on canonical information, the actual name is conjecture and may be supplanted at any time by additional information released from canonical sources. If this occurs, please move this page to the appropriate title.
This individual was a student at Hogwarts School of Witchcraft and Wizardry, and was sorted into Ravenclaw. He fought during the Battle of Hogwarts against the Death Eaters in The Quad battlements, alongside Remus Lupin and Nymphadora Tonks, and because he was with them he most likely witnessed their deaths. It is unknown if he survived the battle.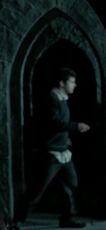 Behind the scenes
Appearances