"There are plenty of eye-witness accounts. Just because you're so narrow-minded you need to have everything shoved under your nose before you–"

This article contains a list of appearances, but currently has few or no notes and references. Please help the Harry Potter Wiki by adding notes and/or references to bring this article to a higher standard of quality.
"He wasn't in Great Wizards of the Twentieth Century, or Notable Magical Names of Our Time [...]"

The subject of this article does not meet our notability standards. Although it is based on canonical/valid information, it was suggested it does not merit its own article and, as such, is to be either deleted or merged with similar articles.

If you disagree with either of these actions, please explain why at Category talk:Non-notable articles or improve the page and remove this tag.

Remember to check what links here and the page history before deleting.
This girl was a student at Hogwarts School of Witchcraft and Wizardry in the 1990s and was sorted into Ravenclaw.
Biography
1994-1995
She was friends with Cho Chang and often walked around Hogwarts with a group of fellow Ravenclaw girls in 1994-1995. She was part of the group of giggling girls at the Ravenclaw table when Harry spilt his tea while attempting to greet Cho.
1995-1996
In 1995-1996 she joined Dumbledore's Army. She was often seen entering the
Room of Requirement
with other Ravenclaws including Cho and Luna, and was often seen practising with other DA members. After Umbridge raided the Room of Requirement, as punishment she wrote lines in the Great Hall with Umbridge's blood quill alongside fellow DA members. , after Umbridge's punishment she awkwardly looked at Cho in entrance hall and scurried away with other Ravenclaws.
1997-1998
In 1998 she was part of the group of students who were hiding in the Room of Requirement. She participated in the Battle of Hogwarts, and was present when the Death Eaters arrived at the Viaduct Courtyard with Harry Potter's "corpse", and for Ginny Weasley's scream, which Arthur Weasley stopped.
Physical description
She was skinny and taller than most girls. She had large ears and a large nose. Her hair was black, greasy and very curly and was usually tied in a tight pony, however in 1997-1998 she wore it straight. She also appeared to be of African descent or mixed race.
Behind the scenes
Appearances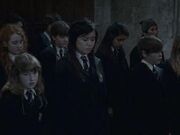 Notes and references