Unidentified Male Death Eater (I)
Talk

1
"Are you a wizard or not?"

The title of this article is conjectural. Although it is based on canonical information, the actual name is conjecture and may be supplanted at any time by additional information released from canonical sources. If this occurs, please move this page to the appropriate title.
The Unidentified Male Death Eater is seen once at Malfoy Manor planning with the other Death Eaters and again during the Battle of Hogwarts during the Second Wizarding War.
Biography
Early life
It's possible that he went to Hogwarts School of Witchcraft and Wizardry around the 1970s and may have been sorted in Slytherin. He would later graduate and become a Death Eater, swearing allegiance to Lord Voldemort.
Second Wizarding War
This individual was only seen during the
Meeting
at
Malfoy Manor
when
Charity Burbage
was killed. He listened to
Severus Snape
and Voldemort speak about the
Ministry of Magic
.
This Death Eater also fought at Battle of Hogwarts in 1998, during which he was seen in the Forbidden Forest when Voldemort tried to kill Harry Potter.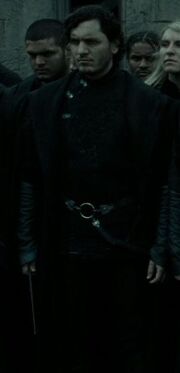 Later Life
Hewas possibly killed during the Battle of Hogwarts, or was imprisoned in Azkaban.
Behind the scenes
Appearances
Notes and references