Unidentified Gringotts Bank goblin guard
Talk

0
"Are you a wizard or not?"

The title of this article is conjectural. Although it is based on canonical information, the actual name is conjecture and may be supplanted at any time by additional information released from canonical sources. If this occurs, please move this page to the appropriate title.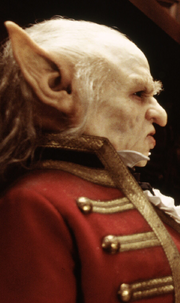 This goblin was a guard at Gringotts Wizarding Bank in 1991. He wore a uniform of scarlet and gold, and stood by the bank's outer doors to greet visitors. He was described as having a pointed beard, a swarthy, clever face, and was about a head shorter than Harry Potter was when he was eleven.
Behind the scenes
Appearances