We must've been through hundreds of books already and we can't find him anywhere —

This article is lacking a section listing all of its known appearances in canon. Please help the Harry Potter Wiki by adding such a section, so that it conforms with our layout guide.
"Are you a wizard or not?"

The title of this article is conjectural. Although it is based on canonical information, the actual name is a conjecture and may be supplanted at any time by additional information released from canonical sources. If this occurs, please move this page to the appropriate title.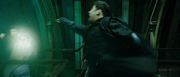 This Death Eater fought during the Battle of Hogwarts, and helped engage in a mission near the Quad battlements. He took down a Hogwarts defender via Killing Curse before engaging Arthur Weasley in combat. Their spells locked together in Priori Incantatem. It is unknown what happened to the Death Eater, though it is likely that he was killed by Arthur during the duel.