"We must've been through hundreds of books already and we can't find him anywhere —"

This article is lacking a section listing all of its known appearances in canon. Please help the Harry Potter Wiki by adding such a section, so that it conforms with our layout guide.
Uganda is a landlocked nation located in East Africa.
Magical Games and Sports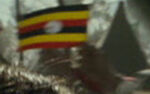 This article about a location is a stub. You can help by expanding it.