"Is this all real? Or has this been happening inside my head?"

The subject of this article is a real-life person, group, company, product, or creative work that has been mentioned "in-universe" in a canon source. The Harry Potter Wiki is written from the perspective that all information presented in canon is true (e.g., Hogwarts really exists), and, as such, details contained in this article may differ from real world facts.
Uganda is a landlocked nation located in East Africa.
Magical Games and Sports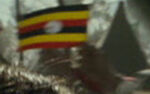 Magical Education
Uagadou School of Magic is located in Uganda, but it took students from all over Africa.[1]
Appearances
References

This article about a location is a stub. You can help by expanding it.