"Are you a wizard or not?"

The title of this article is conjectural. Although it is based on canonical information, the actual name is conjecture and may be supplanted at any time by additional information released from canonical sources. If this occurs, please move this page to the appropriate title.

This individual was an African wizard who attended Uagadou School of Magic. He was a skilled potioneer and represented his school at the Wizarding Schools Potions Championship.
History
Uagadou School of Magic
Like other students, the African wizard was most likely given a token by a Dream Messenger in his sleep for entrance into Uagadou School of Magic.
Wizarding Schools Potions Championship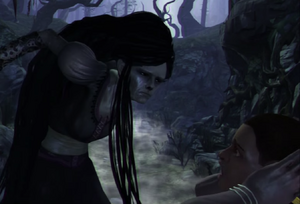 The wizard became a skilled potioneer, and at age 17 or above participated in the Wizarding Schools Potions Championship, where he represented Uagadou, his school. In the championship, he came upon a Banshee, who screamed and drove him to madness. Later, the Hogwarts potions champion used a Laughing Potion on the Banshee to incapacitate it.
Physical appearance
The wizard was dark-skinned with black hair and brown eyes, and wore a white shirt.
Behind the scenes
This is the first student of Uagadou introduced throughout the Harry Potter series.
Appearances
Ad blocker interference detected!
Wikia is a free-to-use site that makes money from advertising. We have a modified experience for viewers using ad blockers

Wikia is not accessible if you've made further modifications. Remove the custom ad blocker rule(s) and the page will load as expected.