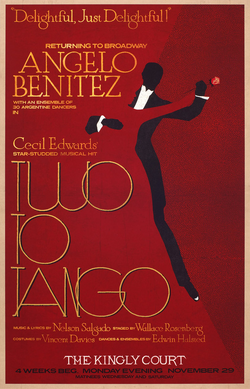 Two to Tango was a No-Maj musical by playwright Cecil Edwards.[1][2] It featured music and lyrics by Nelson Selgado.[1][2]
It was advertised as returning to Broadway at The Kingly Court in New York for four weeks beginning on the evening of Monday 29 November 1926.[1] This production featured a "star-studded" cast, including leading actor Angelo Benitez, who was accompanied by a troupe of thirty Argentine dancers.[1][2] It was directed by Wallace Rosenberg, choreographed by Edwin Halsted, and featured costumes by Vincent Davies.[1] The production included matinee shows on Wednesdays and Saturdays.[1]
An unknown critic raved that the play was "delightful, just delightful!"[1]
Appearances
Notes and references
Ad blocker interference detected!
Wikia is a free-to-use site that makes money from advertising. We have a modified experience for viewers using ad blockers

Wikia is not accessible if you've made further modifications. Remove the custom ad blocker rule(s) and the page will load as expected.