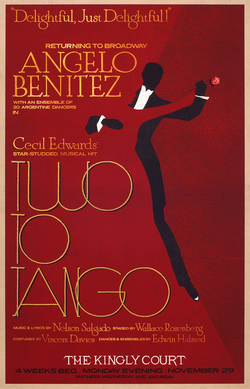 Two to Tango was a No-Maj musical by playwright Cecil Edwards.[1][2] It featured music and lyrics by Nelson Selgado.[1][2]
It was advertised as returning to Broadway at The Kingly Court in New York for four weeks beginning on the evening of Monday 29 November 1926.[1] This production featured a "star-studded" cast, including leading actor Angelo Benitez, who was accompanied by a troupe of thirty Argentine dancers.[1][2] It was directed by Wallace Rosenberg, choreographed by Edwin Halsted, and featured costumes by Vincent Davies.[1] The production included matinee shows on Wednesdays and Saturdays.[1]
An unknown critic raved that the play was "delightful, just delightful!"[1]
Behind the scenes
The name of this musical is somewhat anachronistic as it is presumably derived from the idiom "it takes two to tango" which was not coined until 1952.
Appearances
Notes and references