We must've been through hundreds of books already and we can't find him anywhere —

This article is lacking a section listing all of its known appearances in canon. Please help the Harry Potter Wiki by adding such a section, so that it conforms with our layout guide.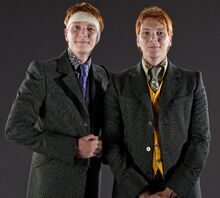 Twins were two children produced by the same pregnancy.[1] They could either be monozygotic, meaning identical, or dizygotic, meaning fraternal.[1]
Types of twins
Identical (monozygotic) twins were the result of a single fertilised embryo splitting in two, creating two people who shared an identical genetic makeup, and typically looked exactly the same physically.[1] Fred and George Weasley were monozygotic twins whose appearance was so perfectly identical that they were capable of tricking their own mother into mixing them up as a prank.[2]
Fraternal (dizygotic) twins were the product of two independent fertilised embryos.[1] Unlike monozygotic twins, these twins were not genetically identical, being no more related than any non-twin full siblings. This meant that one fraternal twin could be born magical while the other was not, as was the case with Martha Steward (Squib) and Rionach Steward (witch), the daughters of Ilvermorny founders Isolt Sayre and James Steward.[3] Male-female twins were, by definition, fraternal twins, with the rare exception of identical twins where one twin's anatomy did not develop normally due to a disorder or where one twin turned out to be transgender.
Conjoined twins were monozygotic twins resulting from an embryo that failed to completely split.[1] This resulted in two people who were not only genetically identical, but physically connected, often sharing internal organs.[1] The "2-Headed Baby" that toured with the Circus Arcanus in the 1920s was a set of conjoined twins.[4]
Known twins
Notes and references