"Harry, your eyesight really is awful."

The title of this article is transcribed from an image. Due to several factors, including poor image quality and difficult-to-read fonts/handwriting, it may have been transcribed incorrectly. If you have a higher quality version of the source image, or a more accurate reading of the text, please visit this article's talk page.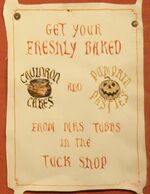 The Tuck Shop was a wizarding snack food store owned by Mrs. Tubbs.[1] Among the goods it offered were freshly-baked Cauldron Cakes and Pumpkin Pasties.[1]
A poster advertising the shop was placed on the Gryffindor common room noticeboard sometime during the 1990s.[1]
Appearances
Notes and references