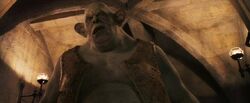 Troll whiskers are the facial hairs of trolls. A magical substance, they can be used as wand cores, though in modern times it is considered an inferior substance to Garrick Ollivander's three Supreme Cores. The wand of Sir Cadogan was rumoured to have contained a troll whisker core.
Appearances
Edit
Ad blocker interference detected!
Wikia is a free-to-use site that makes money from advertising. We have a modified experience for viewers using ad blockers

Wikia is not accessible if you've made further modifications. Remove the custom ad blocker rule(s) and the page will load as expected.