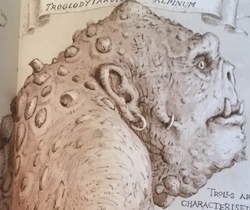 "It was a horrible sight. Twelve feet tall, its skin was a dull, granite gray, its great lumpy body like a boulder with its small bald head perched on top like a coconut. It had short legs thick as tree trunks with flat, horny feet."
—Description
Troll cobbles is the name given to the horny growths that often cover the thick skin of trolls.[1] Trolls seem to periodically shed these growths, which litter the floor of their caves.[1]
Appearances
Notes and references
Ad blocker interference detected!
Wikia is a free-to-use site that makes money from advertising. We have a modified experience for viewers using ad blockers

Wikia is not accessible if you've made further modifications. Remove the custom ad blocker rule(s) and the page will load as expected.