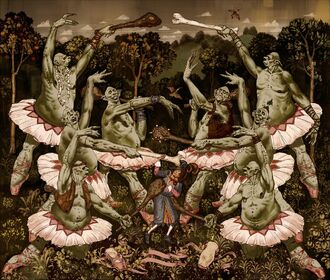 The Troll Tapestry[1] was an enormous moving tapestry depicting Barnabas the Barmy's foolish attempt to train a group of eight[2] trolls for the ballet hung on the seventh floor corridor of Hogwarts Castle, opposite the entrance to the Room of Requirement. [3] The small group was portrayed by a forest clearing, and some of the trolls were hitting Barnabas with their clubs. [2]
Behind the scenes
Appearances
Notes and references
Ad blocker interference detected!
Wikia is a free-to-use site that makes money from advertising. We have a modified experience for viewers using ad blockers

Wikia is not accessible if you've made further modifications. Remove the custom ad blocker rule(s) and the page will load as expected.