"There are plenty of eye-witness accounts. Just because you're so narrow-minded you need to have everything shoved under your nose before you–"

This article contains a list of appearances, but currently has few or no notes and references. Please help the Harry Potter Wiki by adding notes and/or references to bring this article to a higher standard of quality.
"Are you a wizard or not?"

The title of this article is conjectural. Although it is based on canonical information, the actual name is a conjecture and may be supplanted at any time by additional information released from canonical sources. If this occurs, please move this page to the appropriate title.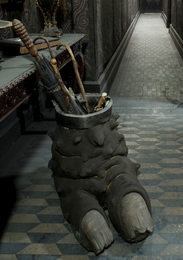 This was an umbrella stand made from a troll's leg. It stood by the door at 12 Grimmauld Place, and Nymphadora Tonks was known to have tripped over it on more than one occasion, usually causing the Portrait of Walburga Black to begin screaming.
When Harry Potter, Ron Weasley, and Hermione Granger visit 12 Grimmauld Place during the Horcrux hunt following the Luchino Caffe Duel, they find the troll-leg umbrella stand knocked over, possibly done in the Order's haste to evacuate the building after the Secret-Keeper, Albus Dumbledore's death, or when Severus Snape entered and searched the building.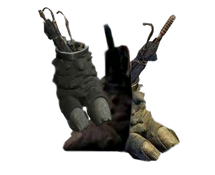 Appearances