We must've been through hundreds of books already and we can't find him anywhere —

This article is lacking a section listing all of its known appearances in canon. Please help the Harry Potter Wiki by adding such a section, so that it conforms with our layout guide.
Warning!

At least some content in this article is derived from information featured in the latest update of Pottermore. As such, spoilers will be present within the article. Please take care when reading this article if you have not yet been through the latest update.
Trelawney is the surname of a wizarding family. They have Muggle as well as magical heritage. There is known Seer heritage in the Trelawney family.
Known family members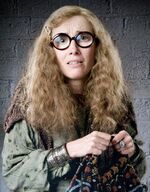 Behind the scenes
Unless Sybill's mother, grandmother, great-grandmother, or Cassandra herself were single mothers or otherwise did not take their husband's name, it is likely that Cassandra Trelawney had a son (Sybill's great-grandfather), who had a son of his own (Sybill's grandfather), who had Sybill's father, in order to account for Sybill to have her great-great-grandmother's surname. Thus, it is also likely that Trelawney was Cassandra's married name.
According to houseofnames.com, the Trelawney family originated in Cornwall.