Trelawney is the surname of a wizarding family. They have Muggle as well as magical heritage. There is known Seer heritage in the Trelawney family.
Known family members
Edit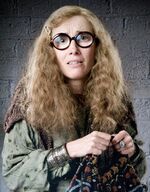 Behind the scenes
Edit
Unless Sybill's mother, grandmother, great-grandmother, or Cassandra herself were single mothers or otherwise did not take their husband's name, it is likely that Cassandra Trelawney had a son (Sybill's great-grandfather), who had a son of his own (Sybill's grandfather), who had Sybill's father, in order to account for Sybill to have her great-great-grandmother's surname. Thus, it is also likely that Trelawney was Cassandra's married name.
According to houseofnames.com, the Trelawney family originated in Cornwall.
Ad blocker interference detected!
Wikia is a free-to-use site that makes money from advertising. We have a modified experience for viewers using ad blockers

Wikia is not accessible if you've made further modifications. Remove the custom ad blocker rule(s) and the page will load as expected.