The Training Grounds Tower is one of the many towers at Hogwarts Castle. It is at the North of the castle and overlooks the Training Grounds. The Library, the Second Floor Corridor and the Charms Classroom are located in this tower.
Behind the scenes
The Training Grounds Tower changes in every film adaptation, but the basic shape remains. In Harry Potter and the Philosopher's Stone, it starts off as a tower with lots of turrets. In the second film, the basic shape remains (if drawn out as a floor plan, the original, which was based upon Alnwick Castle, and the new one are the same) but it changes to look more like the Clock Tower until Harry Potter and the Half-Blood Prince, where the tower was changed to another Bell Tower, but was slightly shorter than the other two. However, in some scenes of the castle (notably the scene in which Death Eaters attempt to get past the protection) the old tower is there, as well as the DADA Tower. However, the reason why the filmmakers changed the tower is because when the production team built the Transfiguration Courtyard set, they built the tower like one of the Bell Towers because it saved time and money. This does not explain why it reverts to its older incarnation midway through the film and then reverts to its new incarnation towards the end of the film.
In Deathly Hallows Part 2, the tower is almost blown up like the Central Tower.
Appearances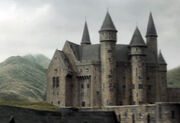 Ad blocker interference detected!
Wikia is a free-to-use site that makes money from advertising. We have a modified experience for viewers using ad blockers

Wikia is not accessible if you've made further modifications. Remove the custom ad blocker rule(s) and the page will load as expected.