"Is this all real? Or has this been happening inside my head?"

The subject of this article is a real-life person, group, company, product, or creative work that has been mentioned "in-universe" in a canon source. The Harry Potter Wiki is written from the perspective that all information presented in canon is true (e.g., Hogwarts really exists), and, as such, details contained in this article may differ from real world facts.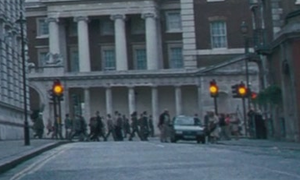 A traffic light is a Muggle device for regulating the flow of vehicular traffic at an intersection, featuring changing signals of light. A green light is used to indicate "go," that vehicles can proceed, while a red light means vehicles must stop in the direction facing that light.
In 1991, Harry Potter observed that his uncle Vernon Dursley's "face went from red to green faster than a set of traffic lights" upon first glancing at his initial Hogwarts acceptance letter.[1]
Ministry cars are somehow capable of jumping to the head of unmoving lines at traffic lights.[2]
Appearances
Notes and references