Tom Marvolo Riddle
Biographical information
Born
Died

2 May, 1998 (aged 71)
Great Hall, Hogwarts Castle, Scotland

Blood status
Marital status

Single

Also known as
Title(s)
Signature

Physical information
Species
Gender

Male

Hair colour

Bald (formerly black)

Eye colour

Red (formerly dark)

Skin colour

White (formerly pale)

Family information
Family members
Magical characteristics
Boggart

His own corpse

Wand
Patronus

None

Affiliation
Occupation
House
Loyalty
Voldemort: "You do not seek to kill me, Dumbledore? Above such brutality, are you?"
Albus Dumbledore: "We both know there are other ways of destroying a man, Tom. Merely taking your life would not satisfy me, I admit."
Voldemort: "There is nothing worse than death, Dumbledore!"
Albus Dumbledore: "You are quite wrong. Indeed, your failure to understand that there are things much worse than death has always been your greatest weakness."
— Voldemort to Dumbledore before their duel
Tom Marvolo Riddle (31 December, 1926[10] – 2 May, 1998), later known as Lord Voldemort, was a half-blood wizard and considered by many to be the most powerful Dark Wizard of all time. The son of wealthy Muggle Tom Riddle Senior and witch Merope Gaunt, he was orphaned and raised in a Muggle orphanage, which remained his permanent residence through his 1938-1945 attendance at Hogwarts School of Witchcraft and Wizardry. He was a member of Slytherin house. 
His accomplishments included the opening of Salazar Slytherin's Chamber of Secrets and the use of its monster to attack Muggle-born students; several months' service as a purchasing agent for the Dark artefacts shop Borgin and Burkes; and the attainment of immortality between the years of 1942 and 1998, a process begun upon the creation of his first Horcrux at the age of 16. Abandoning his 'Muggle' name, he became the self-proclaimed Lord Voldemort, commanded a veritable army of wizards and Dark creatures, committed numerous murders personally and through his followers, on one occasion nearly succeeded and on a later occasion did succeed in taking over the Ministry of Magic by installing a puppet Minister. Splitting his soul into a total of eight pieces, Lord Voldemort created seven Horcruxes, one unintentionally and without his knowledge. 
Voldemort was ripped from his body in 1981, and though unable to die, was not able to regain a permanent and physical body until 1995, thus spending the intervening 14 years 'a shell', 'less than the meanest ghost', but alive. He was finally killed by his own backfiring curse, after the Order of the Phoenix, led by Albus Dumbledore and then Harry Potter after his death, succeeded in destroying all of his Horcruxes. 
Tom Riddle's mutilated soul was then trapped in Limbo for eternity, unable to move on or return as a ghost.[11]
Biography
Edit
Early life
Edit
"I remember she said to me 'I hope he looks like his papa', and I won't lie she was right to hope it, because she was no beauty—and then she told me he was to be named Tom, for his father, and Marvolo, for her father—yes, I know, funny name, isn't it? We wondered whether she came from a circus—and she said the boy's surname was to be Riddle. And she died soon after that without another word."
—Mrs. Cole tells Albus Dumbledore about Merope Gaunt's last words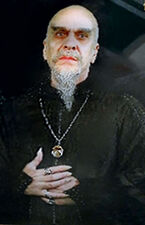 Tom Marvolo Riddle was born on 31 December, New Year's Eve, 1926 at Wool's Orphanage in London. His pure-blood mother, Merope Gaunt, a direct descendant of Salazar Slytherin, died shortly after his birth. Soon before her death, she named the child after his father, Tom Riddle Sr., and Marvolo Gaunt, her father. Tom Riddle Sr. was a wealthy Muggle living in the village of Little Hangleton who was tricked into a relationship with Merope through probable use of a Love Potion[12] After some time, it is speculated by Dumbledore that Merope discontinued her use of love potions on Tom, in the hopes that he had really fallen in love with her, or would at least stay for their child's sake. To Merope's great sorrow, he abandoned her and their unborn child.[13]
Childhood
Edit
"I can make things move without touching them. I can make animals do what I want without training them. I can make bad things happen to people who are mean to me. I can make them hurt if I want to...I can speak to snakes too. They find me, they whisper to me. "
—Eleven-year-old Tom Riddle to Albus Dumbledore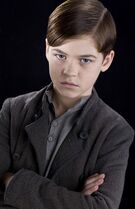 Tom Riddle grew up in a dingy orphanage, completely unaware of his wizarding heritage. Since the