Thomas Sailer is an author and well known figure in the Harry Potter fandom. He is the former representative of EmmaWatsonEmpire.
In 2007, Sailer founded The Knightbus, a Harry Potter link directory that connected about 1,000 Harry Potter websites from all over the world.
The same year, he founded the DA. An international website union, aiming to get Harry Potter fan communities to collaborate more and thus give online fanbases a true voice in the Harry Potter universe. On its top, the DA had 57 member fan communities.
Around that time, the Harry Potter book translation scandal in Slovenia happened. The webmaster of the slovenian fan site Harry Potter Slovenija turned to Thomas and asked him for support. Thomas used his international fandom contacts to help them spread their message in the international fandom. The plan worked out and the action beacame a success for the Slovenian Harry Potter fans.
By that time Thomas created the Knight Cruiser - VIP transport for witches and wizards. The car, a classic Mercedes Benz 280 SEL got painted all purple and served as the mascot for both of his web projects, the Knightbus and the DA.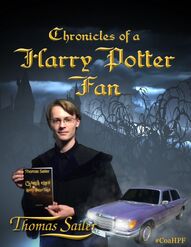 Being an author who got 3 novels published by 2016, Thomas decided to put all his valuable experiences down in an autobiography called Chronicles of a Harry Potter Fan which was released in November of 2012. Originally published in German, the book became translated to English in spring of 2013.
In September of 2016 a second edition of CoaHPF was released in English which is available for free download. Thomas decided to make the book accessible to everyone as it is meant to inspire fans. According to Thomas, the message of CoaHPF is that being a fan is by no means a disadvantage or something to be ashamed of, but a real gift actually.
External links