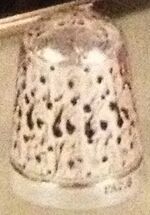 A thimble was a metal or plastic cup worn on the tip of the finger to protect it from pricking or push the needle when sewing.[1]
Tom Riddle stole a thimble from another child at Wool's Orphanage in the 1930s.[2][3] He hid it in his wardrobe along with a stash of other stolen items.[2][3]
Appearances
Notes and references
Ad blocker interference detected!
Wikia is a free-to-use site that makes money from advertising. We have a modified experience for viewers using ad blockers

Wikia is not accessible if you've made further modifications. Remove the custom ad blocker rule(s) and the page will load as expected.