Ad blocker interference detected!
Wikia is a free-to-use site that makes money from advertising. We have a modified experience for viewers using ad blockers

Wikia is not accessible if you've made further modifications. Remove the custom ad blocker rule(s) and the page will load as expected.
"The plans I've seen look incredibly exciting, and I don't think fans of the books or films will be disappointed."
—J. K. Rowling's thoughts on The Wizarding World of Harry Potter before it was opened to the public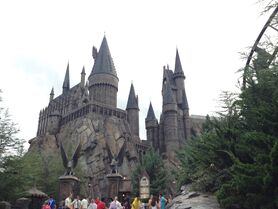 The Wizarding World of Harry Potter is a themed area, based on J.K. Rowling's Harry Potter series, that replaced the Merlin Woods portion of the Lost Continent region in Universal's Islands of Adventure theme park, part of the Universal Orlando Resort. The theme park includes attractions, restaurants, and shops themed around a recreation of Hogwarts Castle and Hogsmeade Village. In 2014, this was joined by Universal Studios Orlando's addition—a recreation of Diagon Alley (located on the former site of the Jaws attraction) with the Hogwarts Express train connecting the two.
"Step inside a world where magic is real."
—Universal Orlando on The Wizarding World of Harry Potter
The Wizarding World includes attractions pertaining to adventures in the film and book series, and shops where "wizard lore" is sold including a replication of Ollivander's wand shop. Since its opening on June 18th, 2010, the area has proved very popular with guests, increasing park attendance by over 50%. Versions of the land for Universal Studios Japan and Universal Studios Hollywood are now open.
Hogsmeade Village
Attractions
Restaurants
Three Broomsticks Inn – Enter Hogsmede's most famous restaurant and choose from a wide variety of traditional English meals.
Shops
Other items of interest
Diagon Alley (Universal Studios Orlando only)
Attractions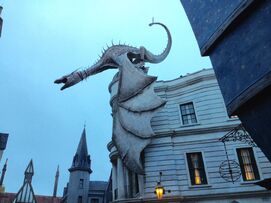 Restaurants
Florean Fortescue's Ice Cream Parlour – Choose from a fabulous selection of ice creams and baked goods. Includes butterbeer flavoured ice cream.
The Leaky Cauldron – Enter the wizarding world's most famous restaurant and choose from a delicious selection of traditional English meals.
The Fountain of Fair Fortune – Ice-cold butterbeers and other drinks to satisfy your needs.
The Hopping Pot – Draft beers, Fishy Green Ale, and Cornish Pasties are served here with outdoor seating.
Shops
Borgin and Burkes – Sells Death Eater masks and other merchandise related to Voldemort and the Death Eaters. It is the only shop accessible in the Knockturn Alley area of the park.
Wands by Gregorovitch – Sells regular and interactive wands from the Harry Potter films including Harry Potter's wand, Ron Weasley's wand, Hermione Granger's wand and many more.
Other items of interest
A Celebration of Harry Potter
A Celebration of Harry Potter is an annual celebration a which typically occurs at Universal Studios Orlando some time in January (most recently occurring from the 29th-31st of January) and usually runs for three days. It includes question and answer sessions with participating members of the Harry Potter cast, special panels, demonstrations, and the incredible Celebration of Harry Potter Expo. In 2016, the collection of 'Wizarding Schools' was unveiled by Evanna Lynch on behalf of Pottermore.
Key Events
January, 2007 - Rumours about a Harry Potter themed area begun to circle about.
May 30th, 2007 - The plans for a Harry Potter themed area were announced during a joint press conference between Warner Bros. and Universal.[1]
December 3rd, 2007 - Construction of the area officially commences at Islands of Adventure.[2]
July 8th, 2008 - The junior steel coaster The Flying Unicorn and the Enchanted Oak Tavern are closed. The former begins refurbishment to prepare transition to Flight of the Hippogriff.[3]
August 2nd, 2008 - The Enchanted Oak Tavern is demolished to make way for the Three Broomsticks restaurant.[4]
September 15th, 2009 - During a press conference featuring Tom Felton, Universal revealed the official names of the three main rides.[5]
March 25th, 2010 - The grand opening date was announced.
May 20th, 2010 - Matthew Lewis, Emma Watson, James Phelps, Oliver Phelps, and Robbie Coltrane had a tour of the area.
May 28th, 2010 - Universal Orlando began letting park guests preview the area.
June 16th, 2010 - An opening celebration was held. Bonnie Wright, Matthew Lewis, Tom Felton, Michael Gambon, James Phelps, and Oliver Phelps arrived on the Knight Bus, and Daniel Radcliffe and Rupert Grint arrived in the Flying Ford Anglia.
June 18th, 2010 - Daniel Radcliffe and other members of the Harry Potter cast officially welcomed the first group of guests into The Wizarding World of Harry Potter.
December, 2011 - It was briefly stated that the Wizarding World in Florida would be expanded.[6] This expansion was rumoured to be Diagon Alley themed with a ride based off of the carts at Gringotts Wizarding Bank.
December, 2011 - Rumours stated that Harry Potter cast members such as Rupert Grint and Helena Bonham Carter had been filming new material, presumably connected with the planned expansion.[7]
July 8, 2014 - Diagon Alley officially opened in Orlando's Universal Studios.
July 15, 2014 - The Japanese version of the Wizarding World of Harry Potter (Hogsmeade) opens at Japan's Universal Studios.
April 7, 2016 - The American west coast version of the Wizarding World of Harry Potter (Hogsmeade) opens at Universal Studios Hollywood
Behind the scenes
In J. K. Rowling's The Silkworm, there is a character named Orlando Quine. When series protagonist Cormoran Strike first hears the name, being half-asleep at the time, he first assumes it is the resort in Florida that is being mentioned. This could possibly be seen as a reference by J.K. Rowling to the location of The Wizarding World of Harry Potter.
Gallery
Videos
External links
Notes and references