"There are plenty of eye-witness accounts. Just because you're so narrow-minded you need to have everything shoved under your nose before you–"

This article contains a list of appearances, but currently has few or no notes and references. Please help the Harry Potter Wiki by adding notes and/or references to bring this article to a higher standard of quality.
"Neither can live while the other survives..."

It has been suggested that this article or section should be merged with Christmas tree.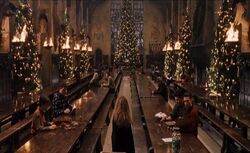 Twelve Christmas Trees were brought in by Rubeus Hagrid each year to decorate the Great Hall of Hogwarts Castle at Christmas. They were very tall compared to normal trees and were adorned with spectacular ornaments.
Behind the scenes
Appearances