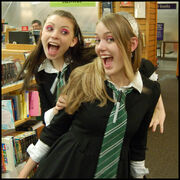 The Parselmouths are a Wizard rock and indie band that was created in Renton, Washington in 2004 by Kristina Horner and Brittany Vahlberg. The Parselmouths differs from other wizard rock bands such as Harry and the Potters and Draco and the Malfoys because it deals with original characters in the Slytherin House. The Parselmouths were named the third best wizard rock band in 2007 by MTV.[1]
History
"The premise of the band was to create and portray very real Slytherin girls because to them, Pansy Parkinson and Millicent Bullstrode are very two dimensional, and Kristina and Brittany wanted to try to give depth to a house that is usually slammed for just being a bunch of spoiled rich kids. They have put themselves into the Harry Potter world as silly, boycrazy, mean Slytherin girls, but the Parselmouths hope that you'll see the deeper message in a lot of their songs. Just as Draco showed his weakness in Harry Potter and the Half Blood Prince, Kristina and Brittany of the Parselmouths try to show that Slytherins aren't all just evil"
—The Description given on their blog.
Brittany and Kristina created the band in 2004 after seeing their first Harry and the Potters concert. They wanted to try and make a band from the eyes of two Slytherin girls. They were later joined by Eia (A Gryffindor) and she remained for their album "Pretty in Pink (And Green)" After this album was released Brittany then had to take some time off for her marriage to Adam Sonnet. Another new member came after Brittany, Alex Day.
Discography
Albums
2006.10.00 - Sssss
2008.07.07 - Pretty in Pink (and Green)
2009.05.21 - Spattergroit
EPs
2007.06.00 - Illegal Love Potion
Collaborations/Others
2007.00.00 - Broken Hearted Slytherins
2007.12.10 - Jingle Spells: Leaky's Rocking Christmas 2007 (#11 Voldy Baby)
2008.09.30 - Witches Wrock (#7 I Went With Draco to the Yule Ball)
2008.10.24 - The Best of the 2007 Wizard Rock EP of the Month Club (#3 Illegal Love Potion; #20 Who Is Blaise Zabini?)
2008.12.10 - Jingle Spells 2 (#7 Santa Don't Judge Me)
2010.10.25 - Live At the Leaky Cauldron: Wizard Rock from Leakycon 2009 (#6 Not Half Bad; #7 Never Gonna End)
External links
Notes and references