"Is this all real? Or has this been happening inside my head?"

The subject of this article is of a real-life person, place, group, company, product, or creative work that has been mentioned "in-universe" in a canon source. The Harry Potter Wiki is written from the perspective that all information presented in canon is true (e.g., Hogwarts really exists), and, as such, details contained in this article may differ from real world facts.
"À mon seul désir."
—French motto on one of the tapestries (English translation of variable interpretation).
The Lady and the Unicorn is the modern name given to a set of six wool and silk tapestries, so named because each tapestry features a noble lady and a unicorn. Replicas of the tapestries were hung on the walls of Gryffindor Tower by the 1990s.[1]
Behind the scenes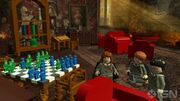 Appearances
External links
Notes and references