The Harry Potter Alliance
Talk

0
11,510pages on
this wiki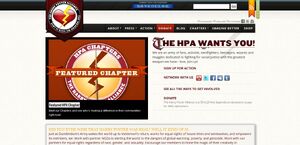 "The Harry Potter Alliance fights the Dark Arts in the real world by using parallels from Harry Potter. We work for human rights, equality, and a better world just as Harry and his friends did throughout the books."
—From the site's What We Do section
The Harry Potter Alliance is a Harry Potter activism website co-founded by Paul DeGeorge and Andrew Slack in 2005. The site is the home for an alliance of fans of the series who work together to improve conditions in the real world, including literacy, equality and human rights.[1][2]
The site was the final winner of the Fan Site award on the J. K. Rowling Official Site in 2008. It was also mentioned in Time Magazine.[3]
The site includes a detailed Press section, an Action section describing how visitors can get involved, a regular blog, a shop and more.
Notes and references