Featured article
Template page
Talk

17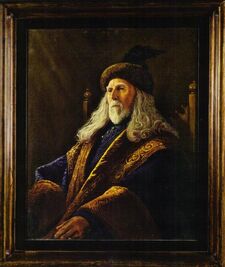 Professor Armando Dippet (October, 1637—late 1992) was Headmaster of Hogwarts School of Witchcraft and Wizardry, and the predecessor of Albus Dumbledore in the post. He was a "nearly bald and a somewhat feeble" man in his elderly years.
Dippet served as Headmaster in the 1940s at least. It was during his tenure that the Chamber of Secrets was first opened by Tom Riddle since its creation by Salazar Slytherin in around A.D. 993. Unknowingly, Dippet was indirectly responsible for the end of the attacks by telling Riddle that the school would have to be closed if said attacks continued. Dippet was also responsible for the expulsion of Rubeus Hagrid after Riddle framed him with the attacks.
Following his retirement, Dippet was accused of the Flying Ford Anglia incident in 1992 by Leonora Gore and Daphne Maubyslin. He died before December of the same year, and, ever since, his portrait hangs in the Headmaster's office. He is featured on a Chocolate Frog Card.
(more...)
---