Ad blocker interference detected!
Wikia is a free-to-use site that makes money from advertising. We have a modified experience for viewers using ad blockers

Wikia is not accessible if you've made further modifications. Remove the custom ad blocker rule(s) and the page will load as expected.
Since this person is only referred to as "Nott" in the books, I think "Mr. Nott" is inappropriate. If his first name is unknown, that could be stated, but as far as i know he is never referred to as Mr. Nott. Mafalda Hopkirk 12:43, 18 January 2008 (UTC)
Why is that photograph here? I didn't know Nott was Voldemort's classmate. That photo is also on the page of Mulciber. I think they were mentioned as being the Death Eaters who travelled at Hogsmeade to tell Riddle "good luck". I'll remove it.User:Quirinus Quirrell
Sorry! I didn't find on Mu;ciber's page. User:Quirinus Quirrell

The photo you added to not Nott but Unidentified Female Voldemort's return.Note that no pointy hat, but the hood.
Photo
Pardon my asking, but why is there a large black blob on the right side of the photo, between his mask and the hood? Is it perhaps just me eyes? Hunniebunn (talk) 23:40, September 30, 2012 (UTC)
Hmm, I think maybe it is just your eyes. I'm not seeing anything that looks unusual to me. ProfessorTofty (talk) 04:33, February 17, 2013 (UTC)

I've uploaded an image, see below: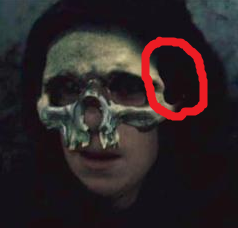 When I look at it head-on, it looks alright, but then I look at it from one side or another and I see the black blob... Don't forget: Elvendork! (It's unisex!) 13:58, February 17, 2013 (UTC)
You're right, I can see it now. I don't know, it almost seems as if someone was trying to cover up a watermark or something. We should see if we can get a better image-- that one's not very high resolution anyway. ProfessorTofty (talk) 04:59, March 8, 2013 (UTC)
Theodore Nott's father
Question:
Why this page say this Nott is Theodore Nott's father? The Nott that in original deatheater seems too old for Theodore's father.