Ad blocker interference detected!
Wikia is a free-to-use site that makes money from advertising. We have a modified experience for viewers using ad blockers

Wikia is not accessible if you've made further modifications. Remove the custom ad blocker rule(s) and the page will load as expected.
Which Owl?
When is it stated that she wrote Which Owl? ? I cannot see her name on this picture... --  Seth Cooper  owl post! 22:47, September 16, 2009 (UTC)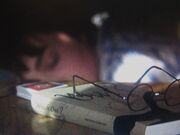 --
Parodist
23:45, September 16, 2009 (UTC)
Birth Year?
Does anyone have a reference on the birth year? Rowling's official site says that Wonderbook is over 200 years old - so either that's a mistake, the birth date we have is wrong, or one of the possible explanations I posted in Behind the scenes applies. ProfessorTofty 04:49, June 25, 2012 (UTC)