Which Owl?
When is it stated that she wrote Which Owl? ? I cannot see her name on this picture... --  Seth Cooper  owl post! 22:47, September 16, 2009 (UTC)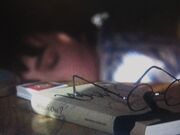 --
Parodist
23:45, September 16, 2009 (UTC)
Birth Year?
Does anyone have a reference on the birth year? Rowling's official site says that Wonderbook is over 200 years old - so either that's a mistake, the birth date we have is wrong, or one of the possible explanations I posted in Behind the scenes applies. ProfessorTofty 04:49, June 25, 2012 (UTC)
Ad blocker interference detected!
Wikia is a free-to-use site that makes money from advertising. We have a modified experience for viewers using ad blockers

Wikia is not accessible if you've made further modifications. Remove the custom ad blocker rule(s) and the page will load as expected.